At Kunjanagar beside the potholed street stood I at blazing sunset lone. The orange
cloudlets scattered the western horizon. Slowly evening descended, and tiny dew
droplets began falling. The birds went home and stopped their songs and fell soon
asleep. But a wayward parrot flicked in the air still. Later a full moon bathed the
harvested field, and crickets sang incessant, and eyes feasted on fireflies' dance round
the bogs. Frogs croaked, and the clusters of stars hung heavy over me. The silence
broken by the occasional barking of the dogs and motorcycles' whiz. The air was heavy
with scent of the woods and herbs. Looking at the patterns of the stars and the fireflies I
glimpse a heaven.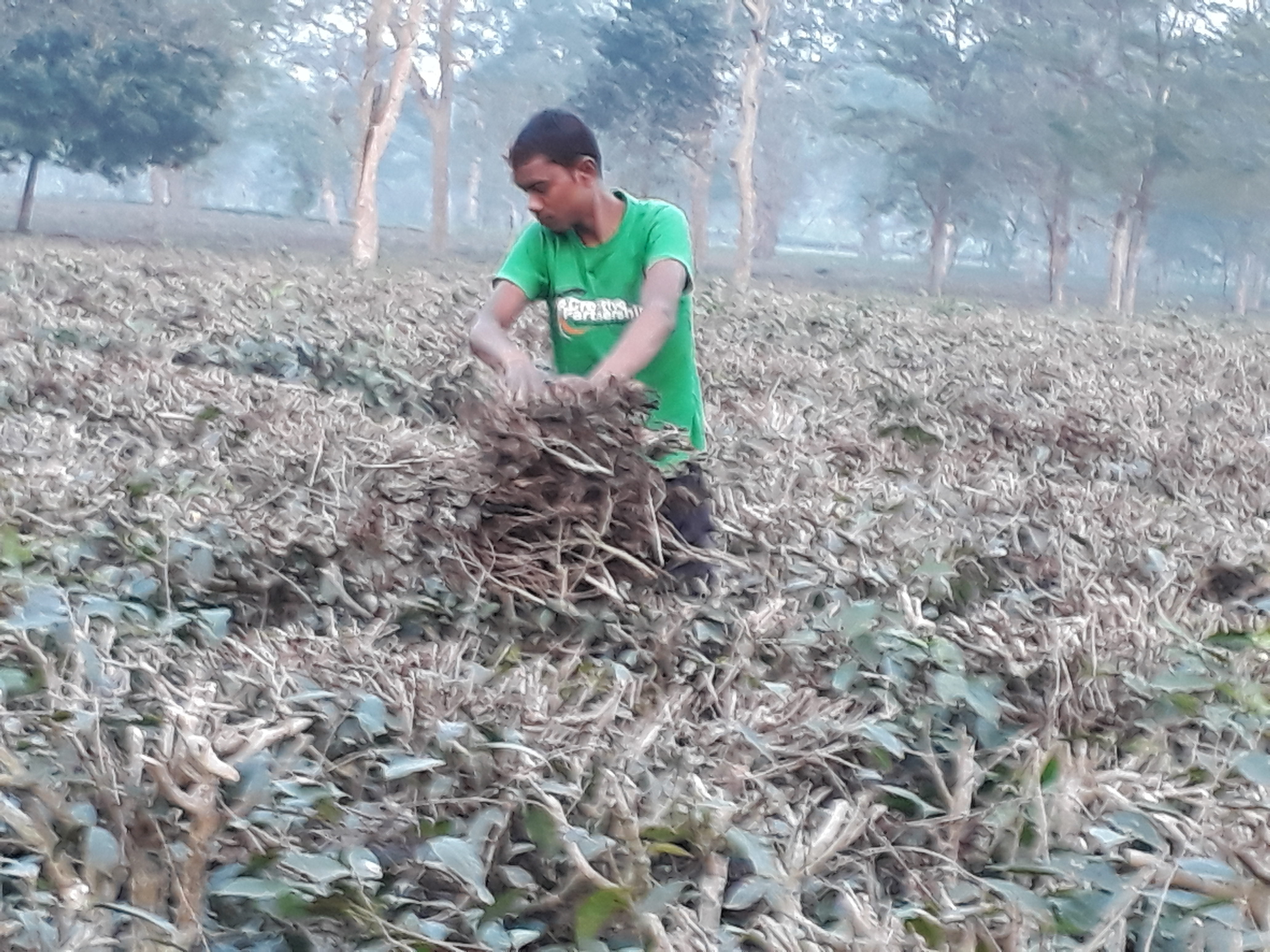 a young boy collects for cooking, twigs, and dried leaves from a shredded tea bagan
long planted. The garden once boasted of its charm and magic, with lush green foliage,
and the beautiful rain trees spotted the long stretches of the horizon. Now it lost its
charisma; poverty, and illiteracy, and lack of a square meal run its nourishers. The
'coolies', once they were so, and they all came from 'Goomla', Chhotanagpur, now
Jharkhand. A paltry payment after in weekend, and all they gather to haats, for haria,
and the vegetables, and groceries. Hardworking lot, from sun to moon they labour, now
not in tea gardens, but in some in the houses of Falakata babus.
Visit a haat, and see the charisma of GOD!
labouerers, unfed, half-fed, barefoot, children's noses running, And the Adivasi women
selling 'haria' for a bare living, or somewhere, they even sell their emaciated bodies,
breasts lost the sense
of erection, all dull flesh, and the nipples dried, black.
Body twisted, and scarred, through the years shine, and shower, and male turpitudes,
I see on haats, or in pavements dry, or in bus stops, children sucking pale, pale mothers,
and they try hard to cover breasts with one end of their sullied torn sarees,
Sometimes, mothers don't care at all men's lustful gazes. I see it at Gayerkata haat too.